MSU Sociology names Carrie Nielsen as Outstanding Senior for 2023
April 24, 2023
Sociology and Economics senior Carrie Nielsen has been chosen to represent the graduating Sociology class for 2023.
"Ms. Nielsen is undoubtedly one of the top three students of the approximately 3200 I have taught and/or worked with over the last 23 years at both public and private universities. ...  Carrie is an intrinsically motivated and conscientious person who accepts challenges and handles adversity quite well.  She has the highly developed intellectual skills, initiative, work ethic, and unwielding perseverance of a seasoned doctoral student—which is all the more impressive given she is only four years since her high school graduation," said Sociology Chair Dr. Aaron McCright, who has worked with Nielsen since February 2019 as Carrie undertook a professorial assistantship.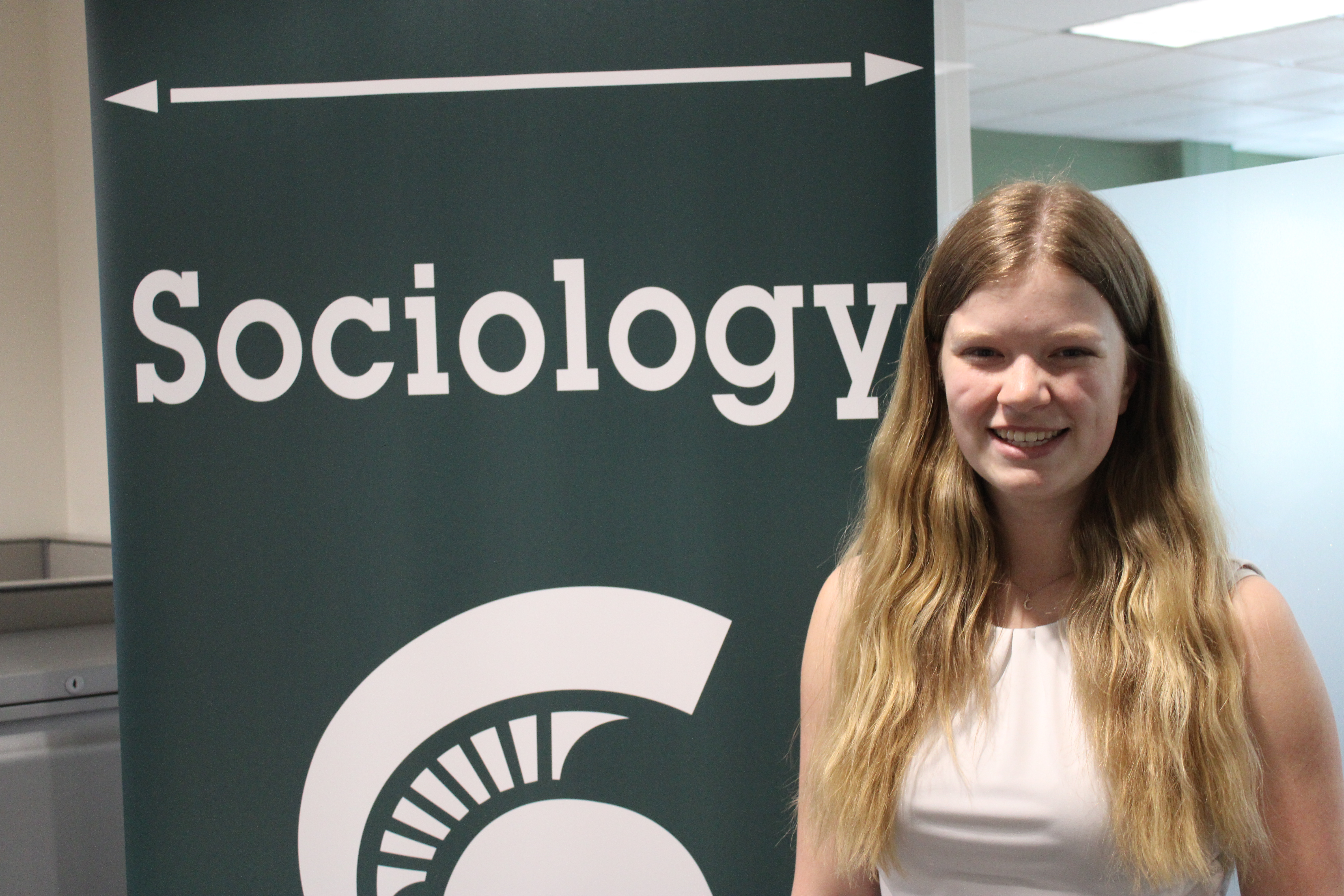 "Carrie excels both as a supportive team member in a collaborative environment and as a self-guided independent researcher.  Finally, she is an authentically kind, ethically minded, well-rounded, and grounded person."
Nielsen has earned a bachelor of science in Sociology and a bachelor of arts in Economics, a minor in Quantitative Datat Analytics. She's a member of both the Economics Scholars Program and the College of Social Science Scholars as well as the Honors College. Last year, she was named the Ruth Hamilton Award winner for best overall Sociology student. She will complete her studies with a perfect 4.0 GPA.
"I've known for a long time that I wanted to spend my career attempting to reduce suffering. I grew up in Saginaw, MI, a town where the effects of white flight and urban disinvestment are glaringly obvious. In high school, I volunteered with Big Brothers Big Sisters, and the experiences of my mentees both horrified me and motivated me to understand why children in the "richest country in the world" have to grow up in such conditions. And in order to understand the present structure of society, sociology seemed like the best major to choose," Nielsen said.
She enjoyed many of her upper-level Sociology courses and is grateful for her experiences researching climate change skepticism with Dr. McCright. But what stands out most to her is her very first Sociology class.
"My freshman year, I took Intro to Environmental Sociology, and it completely upended my view of the world. So many things that I took for granted were challenged in that class, like our assumption that a higher GDP will necessarily indicate happiness or that humans in general are the cause of our environmental problems instead of a specific economic structure like capitalism," Nielsen said.
After graduation, Nielsen will be an assistant analyst in the Microeconomic Studies Division of the Congressional Budget Office, where she will assist economists and policy researchers study how issues related to energy and the climate affect the federal budget.