MSU Sociology alum works to create new sensory space
October 17, 2023 - Scott Pohl
This article first appeared on WKAR.
Michigan State University is opening what officials claim is the first sensory room of its kind at a Big Ten Conference arena.

The Spartan Family Sensory Room in the Breslin Center was dedicated by current and former members of MSU's athletics department Tuesday afternoon. The room is meant to be a quieter place for individuals to take a break from intense stimulation like a sporting event.

Anthony Ianni, a former MSU basketball player, has autism and encouraged the space's creation. During the dedication ceremony, he reflected on the moments in his childhood when he felt overwhelmed attending basketball games.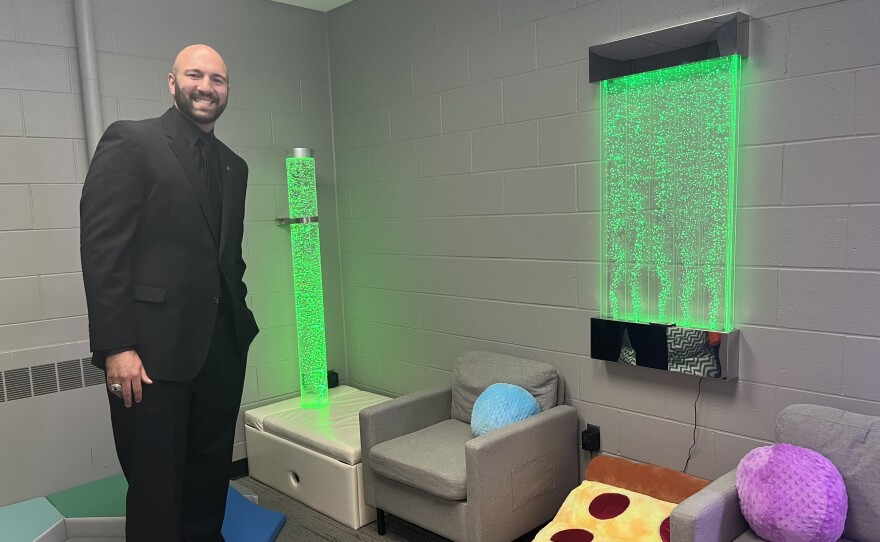 "Being able to have this type of room, this kind of accommodation, to help calm me down, help me have the sensory toys, the fidgeting toys to get my mind off of everything here, it would have done wonders for me," Ianni said.

Ianni, a two-time Big Ten champion and member of the 2010 Final Four team, has spoken candidly about his relationship with autism. Now a motivational speaker and author, other Spartans have remarked on Ianni's lasting impression on the team.

"A coach's job is to teach his players something," said Michigan State basketball coach Tom Izzo during the sensory room's dedication. "It's kind of cool when a player teaches a coach something."

Efforts to bring the sensory room to MSU's Breslin Center have been underway for about five years. Significant funding came from businessman Fredi Bello. The Melvindale-based pizzeria owner has a son with autism and has worked to create sensory rooms across the state through his Fredi the PizzaMan Foundation.

"We've done 72 schools in the state of Michigan," Bello stated. "This is our second major arena: Ford Field, and the Breslin Center."

The Spartan Family Sensory Room is near the Breslin Center's Northwest Kalamazoo Gate behind platform 133 and will be available during men's and women's basketball games, volleyball matches and other events like commencement programs.