Dr. Molly Copeland selected for University of Michigan training program
March 3, 2023
Dr. Molly Copeland, Assistant Professor of Sociology, was selected to participate in the Michigan Integrative Well-Being and Inequality Training Program run by the University of Michigan's School of Public Health.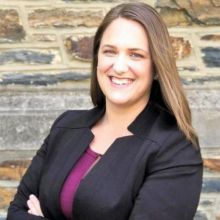 Dr. Copeland will participate in the summer institute in Ann Arbor May 7-10 and then will participate in additional programming and mentorship through April 24.
"This is a wonderful opportunity that is only available to rising stars!" said Sociology Chair Dr. Aaron McCright.
The MIWI Training Program is a state-of-the-art, interdisciplinary methods training program that prepares participating scholars to investigate the intersection of mental and physical health, with an emphasis on how this intersection relates to health disparities. The training encompasses conceptual frameworks, study designs, data collection needs, and analytic approaches necessary to conduct this innovative research.

This program is funded by the National Institutes of Health through the Office of Behavioral and Social Science Research (OBSSR) and the National Center for Complementary and Integrative Health (NCCIH). It is the only NIH-funded program focused on building the methodological expertise needed to address the intersection of mental and physical health. This program will support efforts to increase cross-pollination in interdisciplinary scientific teams, and foster an integrative approach to clinical care and health services programming that can better meet the needs of persons with comorbid mental and physical health conditions.
 Dr. Copeland's research joins social network analysis and medical sociology to examine how social relationships can benefit or introduce risks to health across the life course. Most of her work examines how patterns of connections with others relate to mental health in ways that vary by gender, by network context, and for at-risk groups, such as isolated youth. Current research projects examine how adolescent peer networks relate to depression, self-harm, physical health, and substance use in adolescence, with persistent effects on adult health. She received her doctoral degree in sociology from Duke University.