A strong network helped older people receive help and support during the pandemic, new MSU Sociology research has found
October 26, 2022 - Karessa Weir
MSU Sociology researchers have found that the more friends and family people had before the pandemic, the more likely they were to receive help and support during the worldwide shutdown. For older, non-white people, this is especially true if their network included relatives.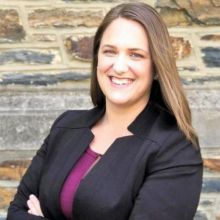 Drs. Molly Copeland and Hui Liu analyzed data from the National Social Life, Health and Aging Project both pre and post pandemic. They found that how adults age 50 and older had structured their "confidant network" before the pandemic in part determined how and if they were able to receive the help and support they needed during COVID-19.
The findings, "Who Gets Help? A National Longitudinal Study of Personal Networks and Pandemic Support Among Older Adults" was published in The Journals of Gerontology, and could lead to policies and programs that aim to increase social support for vulnerable groups that suffer the greatest unmet need for support during a global crisis.
"Social support is critical for healthy aging in older adults," Liu and Copeland wrote. "This importance of social support suggests it may provide a key resource for older adults during the coronavirus disease 2019 pandemic, when closures and social distancing measures required to curtail contagion also limit the services and activities that typically support older adults."
They looked into the size, density and composition of older adults' personal networks before the pandemic and found that the larger and more tight-knit a network was before the pandemic, the more likely it can provide needed help and support during the pandemic. Additionally, older adults with larger networks were more likely to say that they received help and support more often during the pandemic than before the pandemic. 
Other studies have found that greater social support predicts lower mental distress, better cardiovascular health and immune function, and lower mortality.
During the pandemic, Copeland and Liu found found both non-White and unmarried older adults reported needing the most help and support during the pandemic. Women of all races were most likely to receive help and support from their networks but those with larger networks were less at risk of not receiving support.  For non-whites, it was also beneficial to have a higher proportion of kin in the networks.
"Older adults with larger pre pandemic networks may have more confidants to provide needed aid, or having more confidants may provide access to more varied types of support that meet a wider ranger of pandemic needs," they wrote. "Older adults with smaller or sparser personal networks may face challenges in receiving needed pandemic support. Policies or interventions targeting individuals most needing pandemic support should consider risks for such relatively isolated older adults."
The research was supported by the National Institute on Aging.