Diversity Champion: Dr. Rebecca Karam
April 27, 2022 - Liz Schondelmayer
Dr. Rebecca Karam is a sociologist at Michigan State University and a member of the College of Social Science's Dean's Research Associates Program. A fourth-generation Lebanese American, Dr. Karam's work centers around shining a light on the traditions, challenges and successes that Arab and Muslim Americans experience as they navigate life in the United States.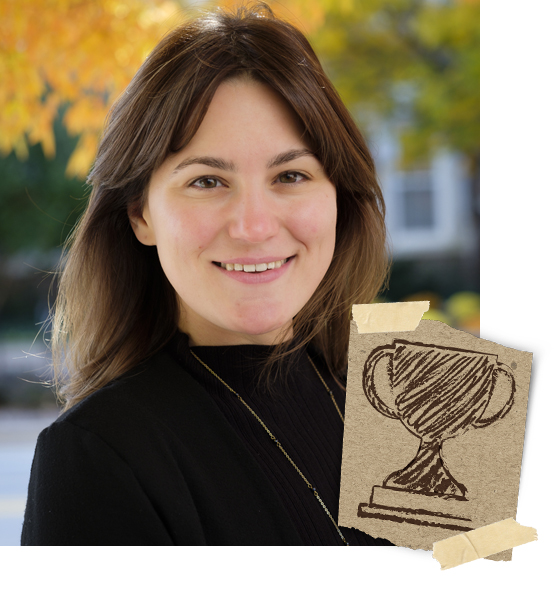 Dr. Karam aims to showcase the everyday life of Arab and Muslim Americans through her research, and focuses much of her scholarship in Metro Detroit. "One of my major goals is to challenge common narratives–found in both the public imagination and in the scholarly literature–that place Arab and Muslim Americans almost exclusively in the context of terrorism and violence," noted Dr. Karam. "Instead, my research uncovers the everyday lived realities of the people living in this stereotype."
One of Dr. Karam's recent research articles entitled "Becoming American by becoming Muslim," published in the Journal of Ethnic and Racial Studies , studied how minority groups strategically assimilate into American culture through the lens of members of those communities themselves. The paper won the Candace Rogers Award for Best Paper from the Eastern Sociological Society.
"Often, social scientists look at minority communities and assess how they're fitting into the mainstream, but this study takes a different approach by instead looking at how members of minority groups themselves make sense of their own assimilation," explained Dr. Karam. "It shows how, for example, Islamic private schools are not used as a barrier to integration into mainstream society as many social scientists may consider it, but rather as a springboard into it."
A skilled qualitative researcher, Dr. Karam is currently teaching an advanced research methods seminar for sociology students looking to explore topics and themes they are interested in through in-depth interviewing methods. She equips her students with a robust methodological toolkit for uncovering "contextual connections," or the linkages between people's everyday lives and large-scale social phenomena.  
"One of the things I want my students to take away from my course is how to make the familiar strange. That is, how to scientifically analyze the taken-for-granted aspects of social life as a means of understanding much bigger, structural phenomena," said Dr. Karam. 
Much of Dr. Karam's research is inspired by her own experiences growing up in an Arab-American family in southeastern Michigan. Her family immigrated to Detroit from Lebanon around the turn of the twentieth century to work in Michigan's booming automotive industry, and her grandparents owned and operated grocery stores throughout the Metro Detroit area. 
One of Dr. Karam's favorite aspects of her Arab heritage is the delicious food traditional to her community. She was even featured as a guest on PBS show, "No Passport Required," in which celebrity chef Marcus Samuelsson visits family-owned restaurants in immigrant communities. Dr. Karam appeared on the show's very first episode , talking about the rich traditions of Arab American food in Metro Detroit.
"I'd love for everyone to watch this show, because it shines a light on the internal diversity of Detroit's Arab American community. Marcus spoke to newcomers to the country, as well as long standing members of the community who've been here for generations," Dr. Karam shared. "He explored all different kinds of food traditions, including the way that food helps people from refugee backgrounds feel a sense of home and community."
This summer, Dr. Karam will fully transition from the Dean's Research Associate Program as a postdoc researcher to a full-time faculty member within the MSU Department of Sociology.