MSU Sociology mourns the passing of Professor Emertius Dr. Harry Schwarzweller
October 10, 2022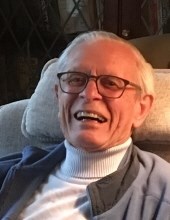 Dr. Harry Schwarzweller was Professor of Sociology at Michigan State University from 1972 until his retirement. His research covered questions of migration, rurality, educational attainment, and social mobility, said Sociology Chair Dr. Aaron McCright.
"Harry was a wonderful colleague, scholar and person. He always carried himself with enthusiasm, good spirits and charm. He travelled extensively and contributed so much to the development of colleagues, students and communities. He will be missed a great deal," said MSU Sociology Professor Dr. Steve Gold.
"Harry was long retired by the time I arrived at MSU, but was still engaged intellectually, politically, and socially.  He was a wonderful man and a wonderful member of our community.  He will indeed be missed," said MSU Sociology Associate Professor Dr. Stephen Gasteyer.
Professor Emeritus Stan Kaplowitz worked with Dr. Schwarzweller and remembers his "warmth and good humor and intellectual interests" who could work with everyone in the department.
According to his obituary, Dr. Schwarzweller died Oct. 3 surrounded by his family at the age of 92. He was born in Brooklyn, NY to German immigrants and grew up loving farming and agriculture. He studied extension education and animal husbandry at Cornell University and then served in the Marine Corps. He returned to Cornell to earn his masters degree in sociology in 1955.
Dr. Schwarzweller won a Fulbright Student Fellowship and spent a year researching agricultural extension in New Zealand and earned his PhD in rural sociology in 1958. His first teaching position was at the University of Kentucky in Lexington. He then taught at University of West Virginia from 1968-1972 before moving to MSU.
After retirement, Dr. Schwarzweller and his wife, Elizabeth, returned to New York where she survives him. Also surviving are sons Paul and Thomas and daughter Erica. A celebration of life will be held at a later date. The family ask that you please consider donations honoring Harry Schwarzweller be made to the Unitarian Universalist Church of Canandaigua 3024 Cooley Road Canandaigua, NY 14424.