MSU Sociology Professor Steven Gold publishes new book on Jewish migration
January 13, 2021
"Wandering Jews: Global Jewish Migration" was edited by Dr. Steven Gold, professor and graduate program director for MSU Sociology. It provides readers with a broader understanding of the Jewish experience in the United States and elsewhere.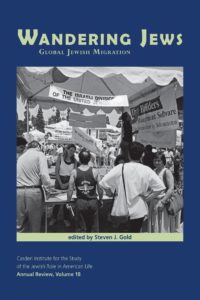 It describes the record of a wide variety of Jewish migrant groups, including those encountering different locations of settlement, historical periods, and facets of the migration experience. While migrants who left the Pale of Settlement in the late nineteenth and early twentieth centuries are discussed, the volume's authors also explore less well-studied topics. These include the fate of contemporary Jewish academics who seek to build communities in midwestern college towns; the adaptation experience of recent Jewish migrants from Latin America, Israel, and the former Soviet Union; the adjustment of Iranian Jews; the experience of contemporary Jewish migrants in France and Belgium; the return of Israelis living abroad; and a number of other topics. Interdisciplinary, the volume draws upon history, sociology, geography, and other fields.
Dr. Gold's scholarly interests include international migration, ethnic economies, ethnic community development, qualitative field methods, and visual sociology. He is the author, coauthor, or coeditor of eight books, including The Israeli Diaspora, which won the Thomas and Znaniecki Award from the American Sociology Association's International Migration Section for the best book on international migration in 2003. Author of over one hundred journal articles and book chapters, Gold received the Charles Horton Cooley Award for Distinguished Scholarship in Sociology from the Michigan Sociology Association in 2007 and the Distinguished Career Award from the American Sociological Association's International Migration Section in 2019.
MSU Jewish Studies will present a book discussion of "Wandering Jews" at 4:30 p.m. Tuesday March 30. You can register in advance at  https://msu.zoom.us/webinar/register/WN_UtWj6t_dQdSnkiPx35kbsw.
Also participating in the discussion is Dr. Kirsten Fermaglich, MSU professor of history and Jewish studies, who will present her chapter entitled "It's the Community That We've Made: Jewish Migration to East Lansing, Michigan in the Postwar Era."  This presentation explores the experiences of Jewish academics who moved to East Lansing, Michigan to take jobs at Michigan State University in the post-World War II era. These academics were part of a wave of American Jewish internal migration. As antisemitic restrictions lifted and higher education expanded in the years after the war, thousands of Jews moved from large Eastern cities to colleges located in small Midwestern and Southern cities with few Jews. Although Jewish observers at the time called these academics "runaway Jewish intellectuals," fearing they would abandon the Jewish community, this paper will describe how the academic Jews of East Lansing found themselves seeking Jewish community, and indeed creating one that fit their needs. These academic migrants built their own religious school and synagogue, which featured an egalitarian liturgy, participatory worship service and a vibrant Jewish community. The academic Jews of East Lansing experienced a renewal, not a loss, of Jewish identity with their migration.