Dr. Molly Copeland receives Provost's Award for NCFDD Faculty Success
May 7, 2021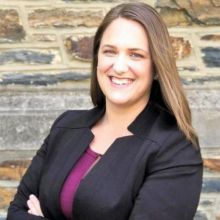 Dr. Molly Copeland, Assistant Professor of Sociology, received the award to attend the National Center for Faculty Development and Diversity.
The Faculty Success Program is a 12-week online program to support tenure-system faculty with the goals of increasing research and writing productivity, gaining control of their time and balancing personal and professional responsibilities.
Dr. Copeland was among 10 MSU faculty to be selected by Provost Teresa K. Woodruff to attend the Summer Faculty Success Program. 
Dr. Copeland's research joins social network analysis and medical sociology to examine how social relationships can benefit or introduce risks to health across the life course. Most of her work examines how patterns of connections with others relate to mental health in ways that vary by gender, by network context, and for at-risk groups, such as isolated youth. Current research projects examine how adolescent peer networks relate to depression, self-harm, physical health, and substance use in adolescence, with persistent effects on adult health. She received her doctoral degree in sociology from Duke University.