Two new Animal Studies publications are now available
December 2, 2021
Dr. Linda Kalof, Professor of Sociology and Director of the MSU Graduate Specialization in Animal Studies, announces two new publications relating to animal-human relations.
The second edition of The Animals Reader has just been published by Routledge and is available at https://www.routledge.com/The-Animals-Reader-The-Essential-Classic-and-Contemporary-Writings/Kalof-Fitzgerald/p/book/9781350066885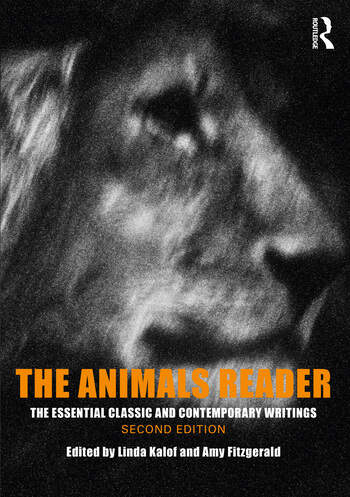 The Animals Reader is edited by Dr. Kalof of Amy Fitzgerald. 
The Animals Reader
brings together classic and contemporary writings from philosophy, ethics, sociology, cultural studies, anthropology, environmental studies, history, law and science. Providing readers with both an understanding of the multidisciplinary field of animal studies and a clear sense of how the role of animals in human society has been understood and critiqued through time, this second edition has been expanded to reflect key developments in theory and research that have emerged in recent years.
 Forty-two chapters are divided into six parts. Favourite entries from the first edition have been retained, and are joined by sixteen new readings covering topics such as equality, animal rights and citizenship, zoos, death and killing, and embodied communication and empathy.
The second edition begins with a new prologue by acclaimed wildlife photographer and photojournalist Britta Jaschinski. Updated pedagogical features include a new general introduction by the editors, revised introductions to each part and each reading, as well as new suggestions for further reading at the end of each section.
As such,

 

The Animals Reader

 

is an invaluable collection for students across the humanities and social sciences, and is also suitable for general readers with an interest in human-animal relations.
In addition, Dr. Kalof's Looking at Animals in Human History (Reaktion 2007) has been translated into Chinese by The Commerical Press/HK. 
From the first cave paintings to Britta Jaschinski's provocative animal photography, it seems we have been describing and portraying animals, in some form or another, for as long as we have been human. This book provides a broad historical overview of our representations of animals, from prehistory to postmodernity, and how those representations have altered with changing social conditions.
 
Taking in a wide range of visual and textual materials, Linda Kalof unearths many surprising and revealing examples of our depictions of animals. She also examines animals in a broad sweep of literature, narrative and criticism: from Pliny the Elder's Natural History to Donna Haraway's writings on animal–human–machine interaction; and from accounts of the Black Plague and histories of the domestic animal and zoos, to the ways that animal stereotypes have been applied to people to highlight hierarchies of gender, race and class.
 
Well-researched and scholarly, yet very accessible, this book is a significant contribution to the human–animal story. Featuring more than 60 images, Looking at Animals in Human History brings together a wealth of information that will appeal to the wide audience interested in animals, as well as to specialists in many disciplines.