Meet Sociology's Newest Assistant Professor Molly Copeland
January 22, 2020 - Karessa Weir
MSU Sociology is pleased to announce the hiring of a new assistant professor in our Health and Medicine signature area.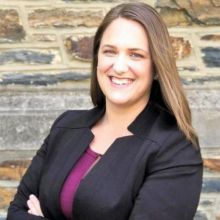 Ms. Molly Copeland is currently a PhD candidate in Sociology at Duke University and expects to receive her PhD in May 2020. Her research examines how connections with others relate to health disparities through gendered processes. She applies quantitative methods and network analysis to examine how social integration during adolescence affects mental health and health behaviors with long-term consequences on adult health. Ms. Copeland has published 3 lead-authored peer-reviewed journal articles. She also has four articles currently under review and several working papers in progress.
Her dissertation is titled "When Friends Help and Harm: Adolescent social structure and mental health."
"Her network analysis skills put her in a unique position to potentially collaborate with other SOC faculty members in the fields of health, environment, and migration. Her interests in rural population also bring her unique opportunities to collaborate with the broader MSU community. She has clearly laid out a plan to connect her research to the coastal communities," said Dr. Hui Liu, Professor of Sociology and head of the department's faculty search committee.
Originally from Pennsylvania, Ms. Copeland earned a B.A. in Linguistics at The College of William and Mary. After several years teaching high school history, she entered the  Sociology Ph.D. Program at Duke University. As a sociologist, she specializes in social networks and medical sociology, with a focus on gender and demography of the life course. Her research examines how patterns of social relationships relate to benefits and risks for health, particularly adolescent mental health.
"I'm very excited to join MSU Sociology and to be part of a department recognizing the value of interdisciplinary and collaborative research that enables a holistic approach to questions of health and social context," Ms. Copeland said.
MSU Sociology Professor and Chairperson Aaron M. McCright noted: "We were very impressed with Ms. Copeland's interview, and we are especially delighted that she will be joining our department next fall. With her methodological and analytical strengths as well as her compelling arguments about mental health, social networks, and the life course, she is poised to make major contributions within the discipline."
In her free time, she enjoys hiking, experimental baking projects, and old movies.