MSU Sociologists to Study How Different Nations have Responded to COVID-19
May 22, 2020 - Karessa Weir
How different nations and states have responded to the COVID-19 crisis and how those responses have impacted their populations are among the topics explored by a new research project by MSU Sociologists Drs. Xuefei Ren and Stephen Gasteyer.
 "Government Responses to the Pandemic: A Cross-National Comparison" has been awarded a $5,000  COVID-19 Small Grant from the College of Social Science.
According to the researchers:
 "This project examines cross-national variations in government responses to Covid-19 and their impact on infection and mortality rates.
"Five months into the Covid-19 crisis, the coronavirus has touched every country, but its impact has been largely uneven. Some countries have resumed their economic and social life close to the pre-pandemic era, some countries are beginning to ease restrictions after being hit hard, while other countries are still enforcing strict travel bans and social distancing rules.
  "Drawing upon publicly available datasets from various sources, this project examines the role of national government policies for mitigating the pandemic, while taking into account of demographic, economic, and cultural factors."
The proposal was among the highest rated by the college, said Associate Dean Anna Maria Santiago, who announced the grant selections.
Dr. Ren is an Associate Professor of Sociology and a comparative urbanist whose work focuses on urban development, governance, architecture, and the built environment in global perspective. She is the author of two award-winning books: Building Globalization: Transnational Architecture Production in Urban China (University of Chicago Press, 2011) and Urban China (Polity Press, 2013). Her new book, Governing the Urban in China and India: Land Grabs, Slum Clearance, and the War on Air Pollution, is to be published from Princeton University Press in 2020. 
 
 Dr. Gasteyer is also an Associate Professor of Sociology at Michigan State University. His research focuses on community development, environmental justice, and the political ecology of landscape change, with specific attention food, energy, water, and public health. Recent research has addressed the food access and impacts urban greening in small US cities, alternative energy and community action, environmental equity in access to water and sanitation, and water governance.  Dr. Gasteyer was a 2015-16 Fulbright Scholar at Birzeit University, Ramallah, Palestinian territories.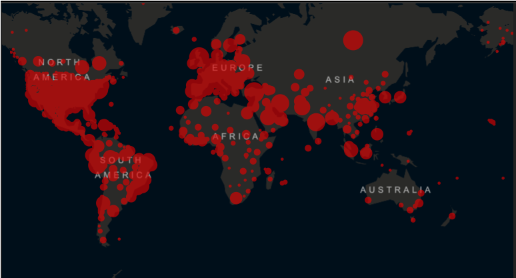 Map of cumulative confirmed cases by Johns Hopkins University. https://coronavirus.jhu.edu/map.html