Molly Copeland
Assistant Professor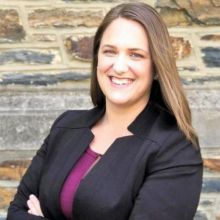 Assistant Professor
Department of Sociology
PhD, Duke University, 2020
Berkey Hall
509 E. Circle Drive Room 316
East Lansing, MI 48824
LINKS
---
BIOGRAPHY
Molly Copeland is an Assistant Professor of Sociology at Michigan State University. Her research joins social network analysis and medical sociology to examine how social relationships can benefit or introduce risks to health across the life course. Most of her work examines how patterns of connections with others relate to mental health in ways that vary by gender, by network context, and for at-risk groups, such as isolated youth. Current research projects examine how adolescent peer networks relate to depression, self-harm, physical health, and substance use in adolescence, with persistent effects on adult health. She received her doctoral degree in sociology from Duke University. 
---
PUBLICATIONS
Kamis, Christina and
Molly Copeland
. "The Long Arm of Social Integration: Gender, adolescent social networks, and adult depressive symptom trajectories". Forthcoming, 2020. Journal of Health and Social Behavior. 
Copeland, Molly
, Rajaa T. Alqahtani, James Moody, Brent Curdy, Mohammad Alghamdi, and Fathiya Alqurashi. 2020. "When Friends Bring You Down: Peer Stress Proliferation and Suicidality". Archives of Suicide Research, Online First, DOI: 10.1080/13811118.2020.1746939. 
Copeland, Molly,
Sonja E. Siennick, Mark E. Feinberg, James Moody, and Daniel T. Ragan. 2019. "Social Ties Cut Both Ways: Self-Harm and Adolescent Peer Networks". Journal of Youth & Adolescence 48(8),
https://doi.org/10.1007/s10964-019-01011-4 
Copeland, Molly
, Jacob C. Fisher, James Moody, and Mark E. Feinberg. 2018. "Different Kinds of Lonely: Dimensions of Isolation and Substance Use in Adolescence." Journal of Youth & Adolescence, 47(8): 1755-1770. 
Copeland, Molly
, Bryce Bartlett, and Jacob C. Fisher. 2017. "Dynamic Associations of Network Isolation and Smoking Behavior." Network Science, 5(3): 257–277.
---